---
10 Recipes of Orange Juice and its benefits!
Here's  10 Orange Juice Recipes & The Benefits of Drinking Oranges:
We have 10 wonderful orange juice recipes for you. From plain OJ to a Pineapple Orange!
1. Benefits of Juicing Oranges:
Oranges have become synonymous with

vitamin C

and has taken the throne as the

"morning juice".

You will see more variety of orange juices at the supermarket than any other type of fruit juice recipes.

Though, I don't think packaged orange juice tastes half as good as freshly made juice.

Furthermore, fresh orange juice nutrition benefits beats packaged juice hands down.
Apart from its high vitamin C content, there's other nutrients in oranges.

It is a good source of folate and fair source of vitamin A.

It is also a fair to good source of minerals such as potassium, calcium, phosphorous and magnesium.

And that's not all – oranges also contain powerful antioxidants called hesperidin and tangeritin.

Both of these nutrients have been shown to have anti-cancer and heart health properties.
---
2. Juicing Oranges:
Remove the peel from the orange, but always try to leave as much of the white skin on the orange as possible.

The peel will produce a very sour taste if juiced, but the white skin contains a lot of nutrition.

The pith is also nutrient dense, so I would also recommend juicing that.

Follow this advice for all the following recipes.
Related Topics:
---
Orange Juicer Recipe,
1. Plain Ole' Orange Juice:
5 oranges

Follow above instructions.

stick them in your juicer and bingo – fresh juice.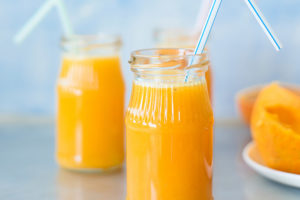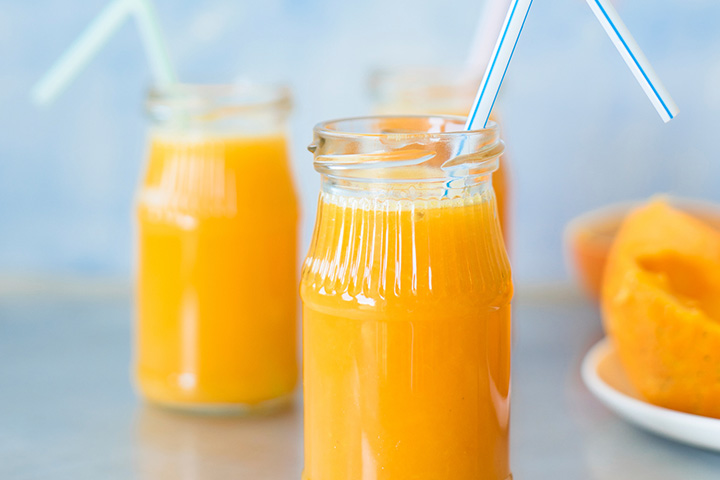 ---
2. Breakfast Buddies: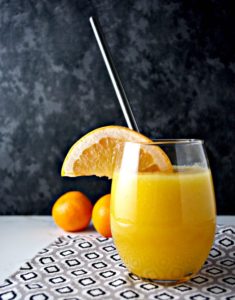 3 large oranges.

1 grapefruit – red or yellow is fine

Prepare the grapefruit for juicing exactly as you would the oranges.
---
3. Citrus Mix with Kiwi: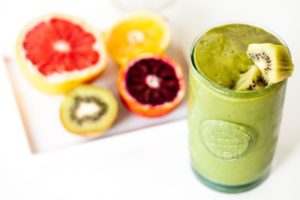 1 orange.

1 grapefruit. 

2 kiwi.

Peel the kiwis.

Adding some cold sparkling mineral water to this is real nice on a hot day.
---
4.Tropical Heaven: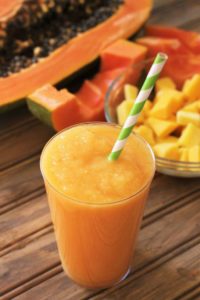 1 orange.

 1 cup of strawberries.

 1 cup of pineapple.

Wash and top the strawberries.

Only use the flesh of the pineapple.
Related Topics:
---
5. Citrus Mix: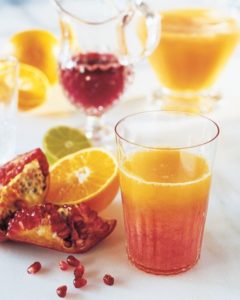 2 oranges.

 

1 grapefruit.

 

1 tangerine (or mandarin). 

1/4 of a lemon.

Prepare the grapefruit and tangerine as you would the oranges.

Only use the flesh of the lemon.

This one will make you stand up straight!
---
6. Tropical Storm: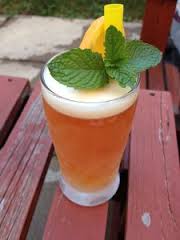 1 orange.

1 cup of pineapple.

1 mango.

1 small papaya.

1 small guava.

Only use the flesh of the pineapple.

Peel and remove pit from mango.

Peel papaya and the guava.

Juice and give it a good stir.

Add some ice if you want it nice and cold!
---
7. Orange Apple Juice: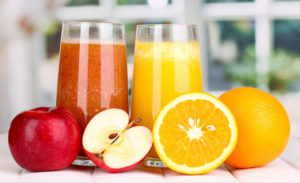 3 oranges.

1 apple.

 

small knob of ginger.

Peel the oranges, and core the apple. Juice as usual and serve. 
---
8. Carrot Pepper Orange: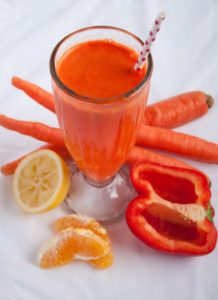 2 carrots.

1 red pepper.

2 oranges.

Peel the oranges and remove the stem from the pepper.

Juice the carrots, pepper and oranges.

Serve immediately. 
---
9. Cucumber Tomato Orange: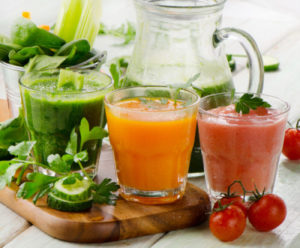 1/2 cucumber.

1 tomato.

2 oranges.

Peel the orange, and cut a cucumber and tomato in half.

Juice as usual and serve immediately.
---
10. Pineapple Orange: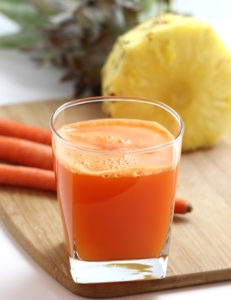 2 cored rounds of pineapple.

2 oranges.

Peel the oranges.

Core and remove the skin from the pineapple.

set aside 2 1 inch "rounds" Juice together and serve. 
If you find this article useful, don't forget to share it with your friends and family, as you might help someone in need. Thanks.
---
Disclaimer: "Nothing in this article makes any claim to offer cures or treatment of any disease or illness. If you are sick please consult with your doctor."
if you want to read more about Orange juice and Recipes , and other healthy topics to improve your lifestyle,We invite you to visit our website and learn more about Juice therapy, as well as great tips for eating healthy . Please   Click Here!
Eat Healthy. Live Healthy!
Liked the article? Share the love!
---