---
5 Mediterranean Diet For Breakfast Recipes!

 
Let's be clear, breakfast is absolutely the most important meal of the day, I can't stress it enough. If you really want to set yourself up for success with the Mediterranean Diet eating a healthy and energy inspiring Mediterranean Diet breakfast every day is a must. Don't skip breakfast, and certainly don't eat fast food for breakfast. For some of us this is a hard habit to develop but once you do expect to see huge positive returns quickly.
Here's some Mediterranean Diet Breakfast Options I think you'll enjoy:
1. Toast with Cheese and Nuts:
Quick, easy and covering all Mediterranean Diet bases. Great for when you are pressed for time, or not up for cooking breakfast.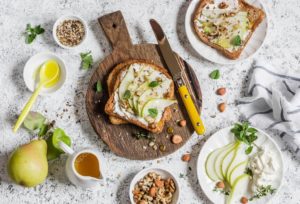 Ingredients:
3 slices whole wheat bread.

21⁄2 ounces low calorie cheese.

11⁄2 tbsp crushed walnuts.
Directions:
Toast your whole wheat bread in toaster. Spread cheese on bread and sprinkle nuts on top. Breakfast is ready!
---
2. Vegetable and Feta Omelette:
Eggs are a good friend to us in the Mediterranean Diet, no time more so than breakfast time: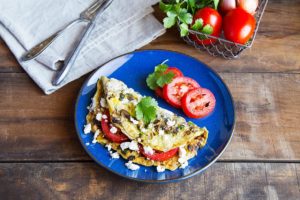 Ingredients:
3 eggs.

diced green pepper, red pepper and onion .

sprinkle of feta cheese.

salt and pepper to taste.

Hot sauce (optional).
Directions:
Dice your pepper and onions, crack eggs and mix in bowl together. Pour into sauté pan. Flip sprinkle with feta cheese and plate. Add salt and pepper to taste, and lots of hot sauce for the adventurous!
Related Topics:
---
3. Granola with Mixed Fruit and Almond Milk:
One of my own favorites. The almond milk really puts a nice spin on the granola and is perfect for those who are lactose intolerant, and for the many who can't cut body fat while still consuming lots of dairy.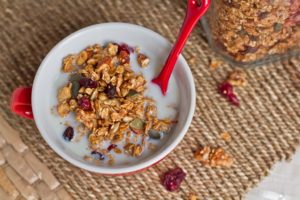 Ingredients:
1⁄2 cup granola.

1⁄2 cup almond milk.

1⁄2 banana.

1⁄2 apple.

1⁄4 cup blue berries.
Directions:
Core and cut up your apple, peal and cut your banana. Put granola, and all your fruit in bowl top with almond milk.
This is a great breakfast for men in particular who studies have shown experience a natural hormonal boost from adding almonds to their diet! Enjoy.
---
4. Avocado and Banana Smoothie:
Having a few breakfast smoothie options is a wise Mediterranean Diet insurance plan. Here's one packed with healthy fat and protein too.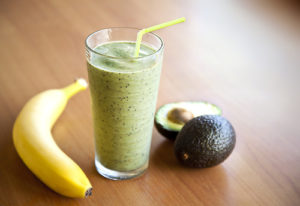 Ingredients:
1⁄2 avocado.

1⁄2 banana.

1 cup milk or almond milk.

a few ice cubes.

stevia natural sweetener to taste.
Directions:
Add all ingredients to your blender and pulse blend. Add stevia until you reach desired sweetness and blend further. Should you enjoy your smoothies less thick just toss in more ice cubes.
Using these Mediterranean Diet breakfast options as a model, it's very easy to plug in your own items according to your personal taste.
Prepare your eggs how you prefer them.

choose different fruit options for your smoothies and so on.
This is something you can and should do to make your first meal something you look forward to and not dread.
Don't forget, the most important thing to keep in mind on the Mediterranean Diet is that breakfast is not a option, but a must! It's that big a part of your foundation for achieving the body and health of your dreams.
---
5. Pancakes:
pancake is very delicious and healthy recipe to start our day.
Ingredients:
1 cup old-fashioned oats.

½ cup all purpose flour.

2 tablespoons flax seeds.

1 teaspoon baking soda.

¼ teaspoon salt.

2 cups Greek yogurt (plain or vanilla).

2 large eggs.

2 tablespoons agave or honey.

2 tablespoons canola oil.

syrup, fresh fruit, or other toppings.
Directions:
Combine first five ingredients in a blender and pulse process 30 seconds. Add yogurt, eggs, oil, and agave and blend until smooth. Let batter stand to thicken, about 20 minutes. Heat large non-stick skillet over medium heat.
Brush skillet with oil. Working in batches, ladle batter by ¼ cupfuls into skillet. Cook pancakes until bottoms are golden brown and bubbles form on top, about 2 minutes. Turn pancakes over; cook until bottoms are golden brown, about 2 minutes.
Transfer to baking sheet. Keep warm in oven. Repeat with remaining batter, brushing skillet with more butter as necessary. Serve with desired toppings.
If you find this article useful, don't forget to share it with your friends and family, as you might help someone in need. Thanks.
if you want to know more about Healthy Eating and Mediterranean Diets for healthy body and heat? Click Here!
Excellent nutrition is the basis of a healthy Life!
Liked the article? Share the love!
---
 Related Topics: