---
Fast And Easy Home Recipes For Kids!
Here's 9 Fast and Easy Home Recipes For Kids
This article shares with you 9 quick and easy home recipes for kids to make sure they eat healthily and happily. They can be very useful as home made recipes for your picky eater child at home.
1. Eggs in a Frame: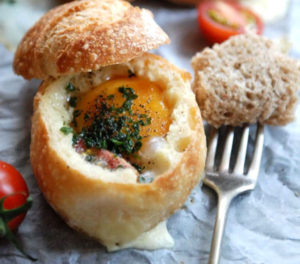 Ingredients:
1 slice bread.

 

Butter. 

1 egg. 

Salt (and pepper, if desired) to taste.
Preparation: 
Pull center from a slice of bread, or cut out center with biscuit cutter.

Butter bread generously on both sides.

Brown bread "frame" on one side in moderately hot buttered frying pan.

Turn over.

Drop egg into center of bread "frame."

Cook slowly until egg white is set.

(Cover pan until white starts to set.)

Sprinkle lightly with salt and/or pepper.

Lift out with pancake turner and serve.

Makes 1 serving.
---
2. Baked Sweet Potato Fries: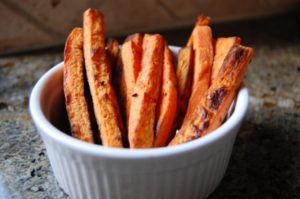 Ingredients:
4 med sweet potatoes or yams.

peeled and sliced into ½"-thick wedges.

1 Table spoon olive oil. 

¼ teaspoon sal. 

1/8 teaspoon black pepper.
Preparation:
 

Preheat oven to 450 degrees F.

Coat baking sheet with cooking spray.

Combine potatoes, oil, salt, and pepper in bowl and toss well. 

Arrange potatoes in single layer on baking sheet.

Bake 25 minutes, turning halfway through. 

Serve immediately.
Related Topics:
---
3. Creamy Chicken Noodle Soup: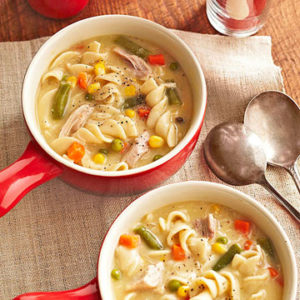 Ingredients:
3 – 4 cups of cooked chicken, save broth. 

1 can each of cream of mushroom and cream of chicken.

 

12 – 16 oz bag of egg noodles.

1/2 bag of frozen mixed veggies.
Preparation:
Use saved broth and add enough water to make about 10 cups or more.

Bring to boil in large stew pot and add noodles to cook until tender.

 

Add soups, chicken and vegetables bring to boil again, then simmer 20 – 30 minutes. 

Add salt and pepper and serve with crackers, biscuits or rolls.
---
4. Honey Fruit Nuggets:
Ingredients:
¼ cup dried pitted prunes.

¼ cup dried apricots.

¼ cup dried figs.

¼ cup pitted dates.

1/3 cup wheat-flake cereal.

 




¼ cup honey.

½ square unsweetened chocolate; melted.

1 cup boiling water.

nonstick cooking spray.

(coconut or chopped nuts for rolling).
Preparation:
Let prunes and apricots stand in boiling water for 5 minutes.

Drain.

Put all fruit through food processor and mix with crushed cereal.

Blend in honey and melted chocolate.

Spray hands with nonstick cooking spray and shape mixture into 1-inch balls.

Roll in coconut or chopped nuts.

Chill and refrigerate in an airtight container.
---
5. Muffins: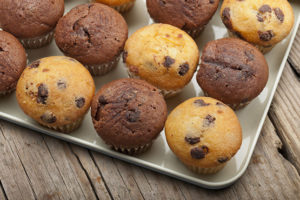 Ingredients:
1 egg.

1 cup milk. 

¼ cup vegetable oil or melted shortening.

2 cups flour.

 

¼ cup sugar.

3 teaspoons baking powder.

1 teaspoon salt.
Preparation:
 

Heat oven to 400°.

Prepare muffin tins by greasing lightly.

Beat egg with a fork.

Stir in milk and oil.

Combine dry ingredients and stir into egg-milk mixture only until flour is moistened.

Batter should be lumpy.

Do not over mix. Fill muffin tins 2/3 full.

Bake 20 to 25 minutes until golden brown.

Loosen immediately with a spatula.

Serve warm.

Yields 12 muffins.

For Blueberry Muffins, blend in 1 cup well drained fresh or frozen blueberries that have been tossed with 1 tablespoon flour.
---
6. Cookie Pizza: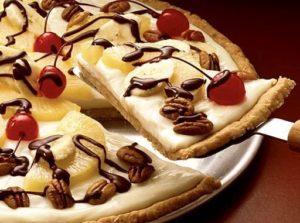 Ingredients: 
Sugar Cookie dough (no more than for a dozen).

Red frosting.

Block of white chocolate.

Toppings of choice: chocolate chips, gummy bears, etc
Preparation:
Roll dough onto round cookie pan until about ½ inch thick.

Bake then cool. Once cooled add red frosting which represents the sauce.

Grate a block of white chocolate and pour on top to represent cheese.

Add toppings.
---
7. Buckeyes: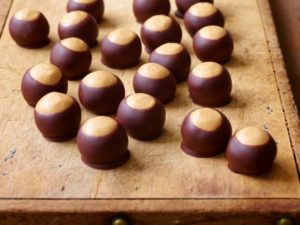 it is one of the best tasting easy recipes for kids and everyone will love them!
Ingredients:
1 ½ cups peanut butter.

1 cup butter, softened.

1/2 teaspoon vanilla extract.

6 cups confectioners' sugar.

4 cups semisweet chocolate chips.
Preparation: 
In a large bowl, mix together the peanut butter, butter, vanilla and confectioners' sugar.

The dough will look dry. 

Roll into 1 inch balls and place on a waxed paper-lined cookie sheet.

Press a toothpick into the top of each ball (to be used later as the handle for dipping) and chill in freezer until firm, about 30 minutes.

Melt chocolate chips in a double boiler or about a minute in microwave until chips show signs of melting. Stir frequently until smooth.

Dip frozen peanut butter balls in chocolate holding onto the toothpick. Only take a few balls at a time or they will start to sweat and then chocolate will NOT stick to them. Leave a small portion of peanut butter showing at the top to make them look like Buckeyes. Put back on the cookie sheet and refrigerate until serving.
---
8. CRISPY HAM AND CHEESE ROLL UPS: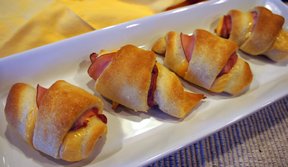 Ingredients:
1 Loaf Bread – (wheat or white bread can be used).

Sliced ham.

 

Cheese Singles.

 

4 Medium Eggs.

 

500g Japanese Bread Crumbs or Panko (the ones used for Tonkatsu).
Preparation:
Trim the edges of the bread. You can ask the kids to flatten the bread with the use of a rolling pin.

You may spread jam on one side of the bread before you put the ham and cheese on top.

Grated Mozzarella or quick melt cheese can also be used instead of the cheese singles.

Roll the bread up tightly and dip in eggs then in Panko or the Japanese bread crumbs.

Deep fry or bake until golden brown.

Place them on paper towels to dry off excess oil.

You may slice them to bite-size pieces before serving.

The kids will love this recipe and it is also a good option for your cocktail parties.
---
9. Pizza Toasts :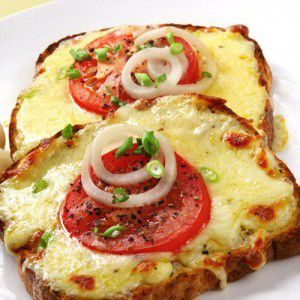 Another good recipe for you and your child to make is the Pizza Toasts.
Making pizza toasts is very easy and you can use any leftover food as your toppings or you can ask your kids for their choice of toppings like ham, pineapple, bacon, pepperoni or which cheese they want to use. You may also add in tuna flakes and slices of tomatoes. Vary the shapes of the ingredients so that the kids can get creative with their pizza toasts and design it to make different forms like stars, happy face, heart, etc.
Ingredients:
250 g. pizza sauce or tomato sauce.

 

Pineapple Chunks.

 

Ham – cut into small pieces.

 

Green Bell Pepper – can be cut into strips or minced.

 

Pepperoni.

Grated Cheese.
Preparation: 
Preheat to 350 degrees F.

Spread tomato sauce or pizza sauce on each slice of bread.

Allow your child to put the toppings available on each slice of bread with the pizza sauce.

Encourage them to be creative and make shapes they want using the ingredients.

Top with your choice of cheese.

Place them on baking tray or pans then bake for 15-20 minutes or until the bread is slightly toasted and the cheese is melted.
If you find this article useful, don't forget to share it with your friends and family, as you might help someone in need. Thanks.
---
Disclaimer: "Nothing in this article makes any claim to offer cures or treatment of any disease or illness. If you are sick please consult with your doctor."
For more variety of great home recipe for kids, Please 
Eat Healthy. Live Healthy!
Liked the article? Share the love!
---